Mel Brady is a stylist, writer and model.  Five years ago, my silver hair led me from behind the scenes as a stylist to being in front of the camera.  Early on I was asked to strip down and rock a bikini along with 5 women less than half my age, at 53 I'd been conditioned to think I was too old, it took a complete shift in my thinking to own it that day.
Today we share some insights into this remarkable woman with an interview centered around fashion, fragrance and how you make your home a home.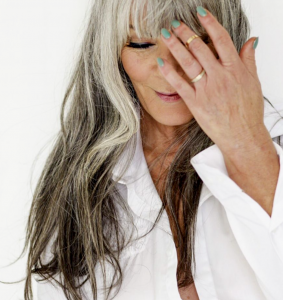 Tell us about yourself.
I'm a 58 year old Lover of Life, I was a Stylist/Writer/Model based in Melbourne, BUT recently made the decision to re imagine myself, so right now i'm 'under construction' back home in Tasmania.
What has your experience in the fragrance/advertising business taught you about how much the consumer is swayed by the marketing and packaging and how much by the fragrance itself? 
Obviously before somebody can smell something all they see are the visuals, they need to be gorgeous but importantly, set the tone for how something actually smells.  If the visuals are right and the fragrance follows through well then that's a winning combination, no?
When designing a room what is the most important factor for you?
Personally in my own home, I want to indulge my senses, I like to surround myself with a small amount of personal treasures, things that evoke memory, bring joy and a sense of sentimentality.
Tell us about a time in your career that you wanted something so badly that you were unstoppable in pursuing it. What obstacles did you overcome to get there? 
Gosh thinking on this there is nothing, I'm the sort of person who puts out a great pitch and sits back and waits for it to come to me… or not.  Either way I feel if I've done my best to get a gig and I don't then it's simply not meant to be.  Life's to short to go against the flow.
Tell us about a person or organization that you admire. Why do you think they have made an important impact? 
Hands down I have loved and felt empowered by everyone Russell Brand has spoken to for his series "under the skin" on Luminary this year, especially during Covid.  His urgency to understanding, about the world, humanity etc parallel my own thoughts and inquiring mind.
How would you describe yourself in your own words? 
Creative, confident & caring, at 58 I feel like I understand life is about reinvention, 'the only constant is change' hence my own leap back to where I grew up at this stage in my life.  I'm unafraid, this should be the right of every person entering mid life, no?  But I think so many arrive here afraid, because society seems to tell us we are worth less as we age.  I'm trying to shine a light on this #embraceage
What current trends are you seeing in your profession?
My side hustle as someone who creates content, I'm seeing more diversity, especially in the space of beauty.
What new things have you tried recently? 
Letting go
What is your greatest achievement? 
So far? because I'm not sure I'm there yet 😉 At this point in my life I would simply say 'learning to listen'.
What is one thing you would love to master?
Chess
How would you describe your interiors style?
Well before I sold all my furniture to move it was all about Mid Century Modern, now, well I'm open to change.  No matter how the aesthetic changes my home will always be filled with art, books, plants, flowers, sentimental possessions, and candles.
Why is it so important to you to light the good candle? 
You know when you first light a good candle you need to let it burn for a certain amount of hours to set off it's wax to burn evenly?  I think the analogy of that is quite profound, lighting the good candle isn't something you do for a few minutes.  You light it because you're settling in to your space, whether on the couch reading a book, or playing a game of chess, listening to music, or sitting friends around your table to eat and be merry… you're setting an 'intention' to stop and be in the moment.
 For more information and inspiration from Mel Brady  //  Social handle: Instgram/missbrady  website: www.embraceage.com.au